Hummingbird Season
We've hit Hummingbird Season! These amazing little birds are back for another summer. You may have your feeder out already. If not, now is the time!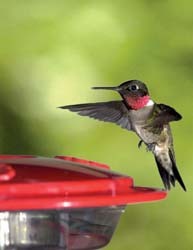 Hummingbirds are some of the smallest birds in the world. The Ruby-Throated variety that we see in the Eastern US, for example, weighs only 1/10th of an ounce - about the weight of a penny. They also lay the world's smallest bird egg: about the size of a tic tac.
If you're new to Hummers, we are more than happy to help you get set up. These birds are very easy to feed. Simply combine one part sugar to four parts boiling water to make a nectar solution, let cool, and put the solution into a hummingbird feeder. We also carry several nectar solutions to add to cold water, or pre-made solutions that can be served right away.
You may notice your hummingbird food spoils quickly in the hot sun. To prevent this,
we recommend Nectar Defender. Nectar Defender is a copper micro-nutrient that is
perfectly safe for the birds and extends the life of the nectar. We carry it in a small bottle
to add to nectar that is already made, or as a concentrate to make nectar straight from the bottle.
The hummers will be here until around Halloween and we're looking forward to enjoying them for the next few months. For more information, please check out the wonderful resource at hummingbirds.net.